Happy International Nurses Day! 国际护士节快乐!
International Nurses Day (IND) is celebrated globally on 12th May each year, as this date marks the anniversary of Florence Nightingale's birthday! The theme for 2023 is 'Our Nurses. Our Future.'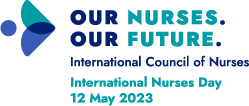 Are you a Chinese student planning to study Nursing at Queen's? On this IND we invite Sun Xingge (孙邢格), one of our few Chinese MSc students in Advanced Professional and Clinical Practice from School of Nursing and Midwifery, Queen's University Belfast, to share her experience of Nursing study and work in Belfast.
With a Queen's charted flight during the COVID-19 pandemic, I started my nursing journey at Queen's and after two years I successfully got my MSc degree in 2023. That, however, is far from the end of my journey. I have won the international studentship from the Department for Economy in Northern Ireland, which will fully fund my PhD studies at QUB. So, my journey with Queen's will continue…
I have been studying nursing for six years since my undergraduate study in Zhengzhou University. I am a qualified nurse in China. In the UK, I have practised at the Ulster Hospital as a student nurse and worked as a healthcare assistant in a care home in Belfast. In 2022, I also visited the Princess Maxima Center for Pediatric Oncology in the Netherlands as a nursing student. Currently, I work as a research assistant in the School of Nursing and Midwifery at QUB and will continue to do PhD study here from this October on.
My nursing journey has been great in Belfast and QUB. I have enjoyed studying and working in the School of Nursing and Midwifery, which has given me so much support in so many different areas.
Studying at Queen's and in Belfast
Language Support: As international students, we need to improve our English academic writing. Our School understands this well and provides us with Academic English courses. Within one year's programme, the courses involve critical thinking, proofreading, presentation skills, reference styles, and many more. We are also able to book a one-to-one tutorial if we have any questions. In addition, our tutor celebrated festivals with all the international students together, such as the Chinese New Year celebration event, which was very rewarding.
Dissertation Support: I was able to choose a supervisor according to my dissertation topic. Luckily, I had two very professional supervisors who are also very patient with me. They arranged meetings with me every two weeks starting in November 2021 to guide me through doing a systematic review. During this period, they gave me feedback promptly and answered any other questions from academic support to mental health.
Research Support: As a postgraduate student, our School provides us with studentship research schemes with 1200 GBP stipend for 3 months. There are five research projects recruiting students to join each semester. For students who would like to pursue PhD studies in the future, this is a good opportunity to accumulate research experience. Luckily, I joined two schemes. I worked with a professional research team with a focus on kidney diseases. During this period, the research project supervisors arranged regular meetings, shared study materials, and taught me different research methods, which have enhanced my research abilities.
Facilities and resources: There are four libraries at QUB. I can self-study and also book a study room for group study at any of them. As a nursing student, I can access the medical library easily to borrow books relevant to my modules. There are also many online resources on Queen's My Future platform, accessible to all students, which help me learn different skills, for example, how to build an advanced search using different databases, and how to use Endnote to manage my research results.
Working at Queen's and elsewhere
Career Support: Notably, Queens also offers you further career support, such as booking a free career consultation via My Future. I also registered as a worker at Qwork. This platform provides job positions for internal applicants, which I strongly recommend.
In terms of clinical practice, the School of Nursing and Midwifery also provides us students with clinical placement to experience the medical system in the UK firsthand. I thoroughly enjoyed my practice in the Medical Acute Unit, at Ulster Hospital, as a student nurse.
I worked with a multidisciplinary team in an English-speaking environment. I participated in the ward handover, provided personal care for patients, and wrote clinical notes under the supervision of my clinical facilitator. After 6 weeks of clinical placement, I gained good experience which would help me seek a clinical part-time job in Belfast.
With great luck I applied for and successfully attended the summer school in Holland through My Future. During the summer holiday in 2022, I attended the Princess Maxima Center for Pediatric Oncology to study childhood cancer for a week. While I started to better understand the European medical system, I was able to communicate with medical students from all over the world, who shared their innovative ideas and opinions for further medical development, which have brought diverse viewpoints and opinions that uplifted my outlook on nursing.
In addition, I worked at a care home for 10 months in Belfast. It was a very memorable experience for me. I provided basic care for the residents and did the daily food management and safety checks. My employer also offered me online and offline training, including first aid, infection control, and fall prevention. I have not only gained professional knowledge but also the skills of care, communication, problem-solving, and teamwork, as well as enhanced my oral English. The work helped me to better understand the medical system and professional culture in the UK.
In retrospect, my studies at Queen's has made a huge difference in my life. All the lecturers and tutors at the School of Nursing and Midwifery are professional and supportive. My life has very fulfilling at QUB and in Belfast. I take advantage of my free time to travel to a lot of countries. I have been to France, Germany, Finland, Holland, Ireland, Italy, etc. I am so grate for my funder, supervisors, families, and friends who have helped me develop great passion for my personal and professional growth alongside my Nursing journey!
Contributor: SUN Xingge
Editors: Lauren McShane and WANG Liang
Continue reading