While in Northern Ireland we have embraced a cool autumn it remains scorching hot in most places in China, where having a bowl of chilled dessert soup sparks so much joy in a hot summer. This time we invite CHEN Jiangyue (陈江月), a graduate in MSc TESOL, to share with us a type of popular dessert soup called 'Yangzhi Ganlu'.
As a girl raised in Guangdong province, which borders Hong Kong, my favourite dessert soup is Yangzhi Ganlu (杨枝甘露 Yángzhī Gānlù), a type of Hong Kong-style dessert soup that is often widely known as 'Yangzhi Nectar', or simply, 'Mango Pomelo Sago' in English.


Photo: CHEN Jiangyue
The dessert soup of the day
Rich in fruit, especially mango (芒果 mángguǒ) and pomelo (柚子 yòuzi), as the name suggests, it often contains grapefruit (葡萄柚 pútaoyòu), coconut (椰子 yēzi), strawberry (草莓 cǎoméi), and sago (西米露 xīmǐlù), served in coconut milk (椰奶 yēnǎi) and syrup (糖水 tángshuǐ, aka Tong Sui in Cantonese). Deliciously sweet and sour with a silky milk flavour, it will soon perk you up with the feeling of infinite freshness and happiness! While it is best served chilled, especially in summer, it is nevertheless a great drink for all seasons.
Whenever I feel like a summer treat, I will make it myself at home as it is easy to prepare, or buy it at local stores as they are so popular. It is also my top recommendation for my friends coming to visit Guangdong. Every time we meet at my place, I always take my friends out to taste Yangzhi Ganlu at some must-try restaurants or dessert soup stores.
What does the Chinese name mean exactly?
Yangzhi Ganlu is a contemporary syrup invented by the Lei Yuan Group, a Hong Kong-based business, in the 1980s, although its name is embedded with connotations of traditional Chinese mythology.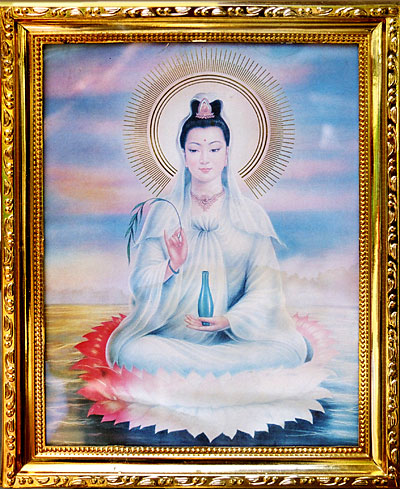 Yangzhi (杨枝 Yángzhī), literally meaning willow branches, refers to the holy branch held in the sacred porcelain vase of Guanyin Bodhisattva (观世音菩萨 Guānshìyīn púsà) in Chinese Buddhism, a figure synonymous with the pinnacle of mercy, compassion, and kindness. Ganlu (甘露 Gānlù) refers to the holy dew dropping from the willow branch, which is believed to have the power to bring people back to life or to make one feel refreshed.
Photo © nationsonline.org
Hence, the name was adopted to highlight its health benefits and its effectiveness at cooling people down in hot weather.
Taking a pioneer role in a competitive dessert industry, Yangzhi Ganlu has evolved into many different variations overtime and has won the heart of many people, both young and old, in greater China and elsewhere. It is believed that its success does not merely rely on the business itself, but also on the cultural associations of its name.
Author: CHEN Jiangyue
Editors: Lauren McShane and WANG Liang
What other type of dessert or drinks have you ever entertained yourselves? Let us know your choices and the stories behind by leaving your comments in the box below. We look forward to reading your blog post in the near future.
Continue reading